Introduction
In this section, we offer a comprehensive review of Unibet Australia, beginning with the history of the betting company, and continuing with the site's available features, how the interface looks, and the pros and cons of using the service.

History of Unibet Australia
Unibet was launched in 1997. Its headquarters are in Malta, but the Northern territory government has licenced its operations in Australia. When it began its operations in the United Kingdom, Unibet was mainly a phone betting business. It expanded to reach users in different parts of the world. It made many acquisitions during that period, including taking over Betchoice, which became Unibet Australia. It also received an Australian domain (.com.au) and the users who had Betchoice accounts were moved to Unibet Australia. 
Features and services
Below is a summary of Unibet Australia's features and services that are offered by the betting site:
Deposit options: use of credit cards, BPAY, electronic transfers, cheques and POL.
Withdrawal options: use of credit cards and electronic transfers.
Transaction fees: none.
Language used: English.
Format of odds: decimal.
Currency used: Australian Dollar.
Minimum deposit: 10 AUD.
Credit turnover: 4x when the odds are 1.4 or more.
Checking identity: to confirm identity, customers of Unibet Australia must be verified before they are allowed to withdraw their winnings. Even before they win, the customer is expected to give their identification verification details within 90 days after they set up their accounts. For Australian residents, the identification process can be completed online.
Fee for being dormant: none.
Format: there is a mobile and a desktop version of the website.
Support: the site has mobile support for local numbers. It is operational every day of the week from 9.00am to midnight.
Bonus code: no bonus code is needed.
Withdrawal: depending on the method users select to receive payment, the withdrawal times vary and can range from a couple of hours to a number of days. In case of problems, the customer support can help.
Signing up
Most reviewers claim that signing up with Unibet Australia is a relatively easy process. To sign up, they need customers to register so that they can create their account. During registration, customers are asked to give out their basic personal information. After giving their personal information, they go to the bottom of the page and click on the "join" button. From there, they can start depositing money they intend to use for betting on their page.
Using Unibet mobile
The widespread use of smartphones means many more people are using their mobile phone to access the internet. This means that mobile use is rapidly becoming one of the most popular ways to access betting sites, and Unibet has not been left behind in this trend. The customer will need to download the mobile Unibet app in order to place bets on the thousands of games available on the mobile site. The mobile app also allows for live streaming of sporting events through Unibet TV. For people who are using iOS, the app is available on their phones. For Android users, the app can be downloaded on the Unibet website.
Streaming on Unibet Australia
One of the most asked questions when it comes to Unibet Australia is whether customers are allowed to stream live sports events as they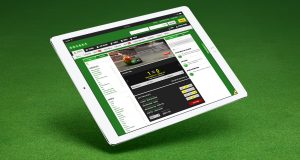 happen. The answer is: yes, people can access Unibet live streams by visiting Unibet TV. In order to do this, users need to log into their Unibet account and click on 'Streaming' found in the Sports Betting page.
Watching on Unibet streaming
There is a wide selection of what customers can watch on Unibet TV. Popular games such as NBA, selected football games and also NFL can be streamed, and this is available on mobile. Customers interested in something specific can check out what is coming up by scrolling through the calendar. To be able to access the streaming services, users should have funds in their accounts and must have placed a bet within the last 24 hours.
Interface and web design
Many Unibet Australia reviewers believe that the site could do with some improvement when it comes to how the interface looks and the design of the website. However, it is certainly easy to navigate. Under the sports menu, users will find a shortcut that leads to popular sports. There are also links that show the sports that are about to begin for users to bet on. When users click on any sport, they get the leagues and the sub markets within the league. There is also a search feature for people who are looking for specific sports. The panel that leads to the odds gets some complaints for being too dark. Events with a green icon next to them indicate that the event will be streamed live.
Unibet Australia betting odds
As much as Unibet Australia reviews have some complaining about the commission rates offered on the odds, the prices are competitive. Customers can bet on major soccer leagues and NBA, NHL and NFL at 1.90.
Pros
Low minimum wager amount ($ 0.10)
Good selection of sports, plus local Australian football leagues and not just the A- league
Easy to use interface
Allows live streaming of selected sports events
Low bookmaker margins
There are form guides for horse racing and customers also get relevant statistics on their sports of interest
Cons
Their deposit methods are not as vast as other betting companies

Users are supposed to use assigned IDs for their username to be able to log in. Some people find it inconvenient, especially when they need to remember the ID daily
Their requirements for turnover are higher when compared to other betting sites
Generally, it is a fairly easy to use betting site, and has more gains compared to rivals.